Dive into the details
The Pearl Cotton Crinkle Hijabs Collection features a range of cotton hijabs that are soft, light, and stay in place due to their non-slip fabric, crinkle texture, and airy flow. Embellished with elegant pearls, and frayed edges, our Pearl Cotton Crinkle Hijabs are the perfect choice to effortlessly dress up any outfit.
Achieve easy and effortless styling with these wrinkle-resistant hijabs that don't require ironing or pinning up. Our Pearl Cotton Hijab collection is made for our ladies on the go who require a subtle touch of elegance.
Available in 7 beautiful colors, this easy breezy pearled collection definitely needs to be an addition to your hijab collection! Ranging from neutrals to bright and vibrant shades, we have something for everyone! Browse our exquisite range of hijabs that are exclusively cut and sewn to perfection for you! Pair with our Hijab Scrunchies & Hijab Magnets to complete the look.
Texture - opacity - Thickness
Fabric Insights
<!**START - Fabric Guide - Product Pages**> <!**END - Fabric Guide - Product Pages**>
Our Cotton Crinkle hijabs are 180 x 90 cm in size, or approximately 70.9 x 35 inches
The size of the hijabs is meant to strike a balance between coverage and comfort, making them suitable for a wide range of activities and occasions.
To wear a cotton crinkle hijab, you can try the following method:
Drape the hijab over your head, with one end longer than the other and simply wrap it around. Secure it in place with pins or hijab magnets, and consider wearing an undercap to help keep the hijab in place.
Cotton crinkle hijabs are versatile and can be worn in many different ways, so don't be afraid to try out different styles and techniques to find what works best for you.
Wearing an undercap is not necessary with cotton crinkle hijabs, but it can help to keep the hijab in place and provide an additional layer of coverage.
Not at all! That's one of the best things about these hijabs. They are so hassle-free and low maintenance.
They are designed to be wonderfully crinkly and wrinkle-resistant, so you can ditch the iron!
Cotton Crinkle Hijabs are the perfect option for new hijabis. Here are a few reasons why:
Inexpensive: You get to experiment a lot without feeling bad about damaging them
Hassle-free: They are very lightweight and soft. This is perfect for beginners as it won't bother you throughout your day.
Longevity: They surprisingly last a decent amount of time.
Low maintenance: Their wrinkle texture means you never have to iron them.
We'll be happy to assist you!
Simply shoot us an email at info@mominamodestwear.com or chat with us in the bottom right corner of the page.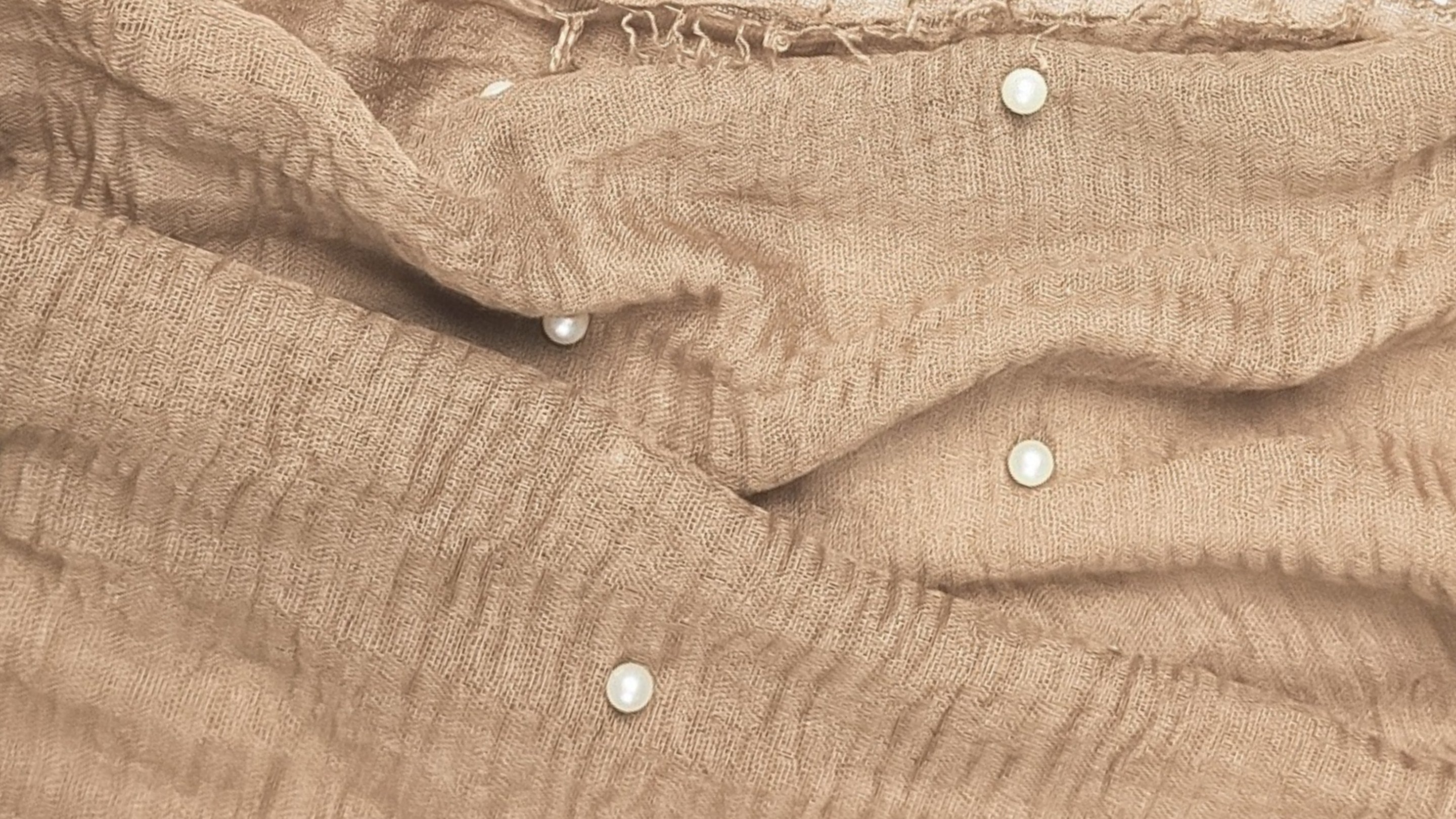 Handcrafted just for you
Quality that shows
Utilizing the best fabrics and sewing techniques available on the market, all our pieces are sewn to perfection.
Explore More Soft Fabrics