Achieve that perfect, effortless, volumizing bun with our Chiffon Hijab Scrunchie - Pitch Black. Featured in a jet-black hue, this scrunchie will easily blend with dark hair and keep your hair in place all day.
Designed with your hair's well-being in mind

Made with lightweight and breathable chiffon fabric

Protects your hair from unnecessary breakage and denting
Elasticity to provide a comfortable fit
Please note colors may vary slightly due to screen color resolution
Pair these scrunchies with our Hijab Underscarves for a flawless hijab styling experience!
Fabric: 100% Polyester - Bubble Chiffon
Care: To keep your hijab scrunchie looking its best, we recommend that you:
Hand wash or machine wash on a delicate cycle in cold water
Use a mild detergent and avoid bleach or fabric softener
Hang or lay flat to dry, or tumble dry on a low heat setting
Iron on a low heat setting, or steam to remove any wrinkles
To remove any stains or spots, gently blot the affected area with a damp cloth and mild detergent, then rinse and hang to dry.
| Shipping Region | Minimum Order Amount | Shipping Cost | Transit Time |
| --- | --- | --- | --- |
| USA-wide | $80 USD | Free | 2-7 business days |
| USA-wide | Under $80 USD | $4.99 USD | 2-7 business days |
Package Tracking and Insurance: Rest assured, all our packages are tracked and insured for your peace of mind.
Customs Duty:
United States: No Customs Duty for orders under $800 in the US.
For more information, please review our Shipping Policy.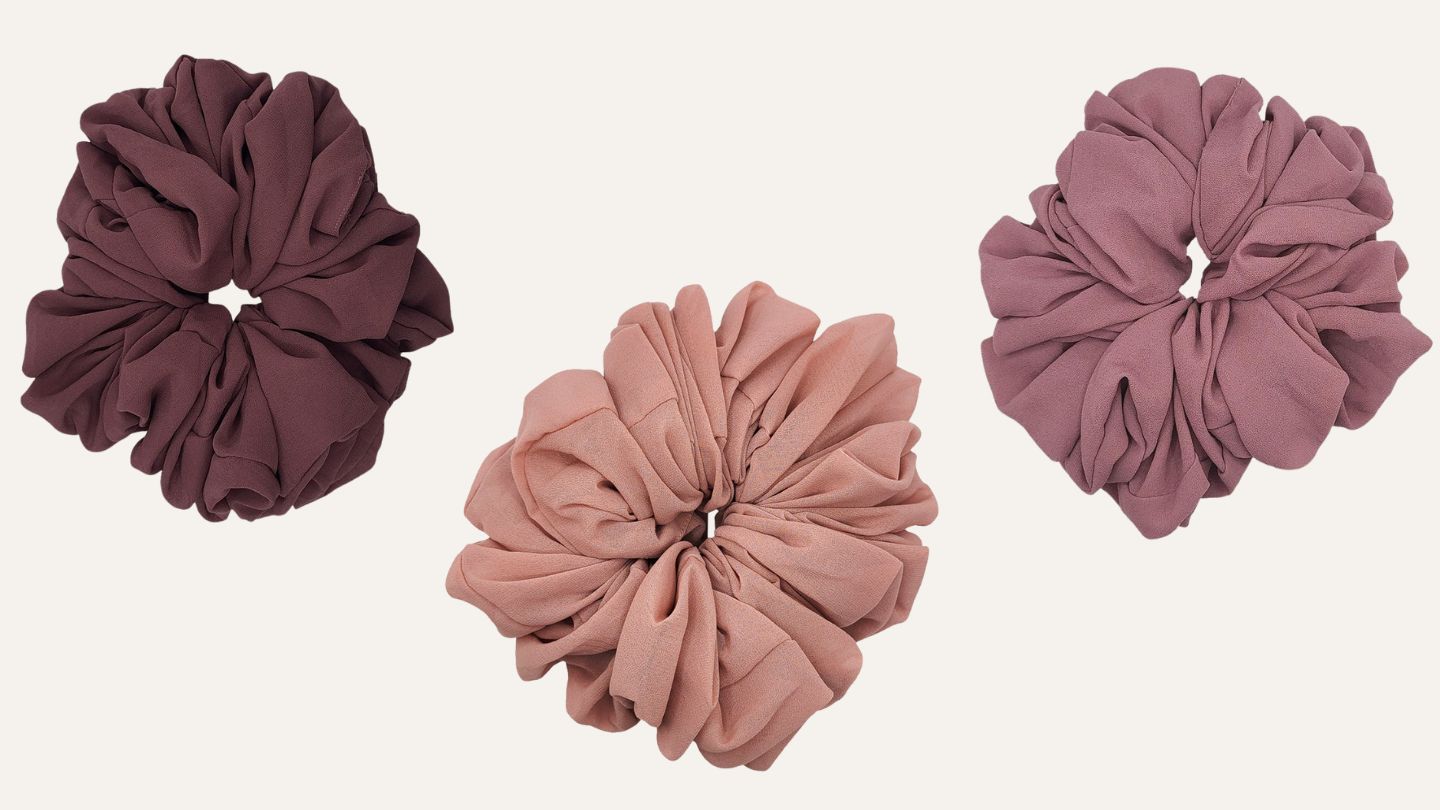 Volumizing Hijab Scrunchies
The Perfect Hijab Bun
Unlike velvet scrunchies, these light weight scrunchies won't tug or break your hair while adding a bit of volume to your bun.
Our scrunchies are dyed in shades that will perfectly blend in with the color of your hijabs with some hijabs being a perfect match.
Product Guide: Chiffon Hijab Scrunchies
Our Chiffon Hijab Scrunchies are made from a soft, lightweight, and breathable fabric called bubble chiffon.
This fabric is made of 100% polyester and has a slightly textured surface that grips the hair just enough to not cause any damage.
These lightweight scrunchies are the easiest way to add volume to your bun while staying comfortable.
It really depends on the length of your hair.
They will work perfectly as long as you are able to make a small bun to tie the scrunchie around.
We would not recommend these if your hair is shorter than shoulder length.
Chiffon Hijab Scrunchies are made from a lightweight, sheer fabric that is less abrasive and less likely to cause damage to hair compared to materials like velvet.
In fact, chiffon hijab scrunchies are designed to be gentler on the hair than velvet scrunchies, which tend to grip the hair more tightly.
As long as you handle your hair gently and avoid pulling or tugging on it excessively, these hijab scrunchies should not cause any damage to your hair.
We'll be happy to assist you!
Simply shoot us an email at info@mominamodestwear.com or chat with us in the bottom right corner of the page.