Our Instant Jersey Hijabs are crafted from a high-quality jersey fabric that is both stretchy and durable. The exceptional fabric is light and soft, providing all-day comfort. The no-pin design allows you to style your hijab with ease and confidence. These fashionable hijabs are ideal for mothers, working ladies, students, workouts and ladies on the go.
Meet our most effortless and comfortable jersey hijabs yet! These hassle-free hijabs are pre-sewn to fit around your face with no pins needed, giving you an easy slip-on fit so you can have your hijab ready to go in just a few seconds! Enjoy effortless styling, draping and wrapping with our Instant Jersey Hijab - Brown Sugar which is a gorgeous chocolatey brown hue. 
Pair with our Hijab Scrunchies & Hijab Magnets to keep your hijab and hair in place all day!
Materials & Care:
Approx. size: 50" x 26" x 9"
Fully opaque and stretchy 
Pre-sewn under the chin

Care: hand wash & hang dry is recommended 
Please note that while we make every effort to ensure that the product colours displayed are accurate representations of the actual product, we cannot guarantee a perfect colour match.
Fabric: Cotton Jersey - 95% Cotton 5% Spandex
Care: To keep your hijab looking its best, we recommend that you:
Hand wash or machine wash on a delicate cycle in cold water
Use a mild detergent and avoid bleach or fabric softener
Hang or lay flat to dry, or tumble dry on a low heat setting
Iron on a low heat setting, or steam to remove any wrinkles
To remove any stains or spots, gently blot the affected area with a damp cloth and mild detergent, then rinse and hang to dry.
| Shipping Region | Minimum Order Amount | Shipping Cost | Transit Time |
| --- | --- | --- | --- |
| USA-wide | $80 USD | Free | 2-7 business days |
| USA-wide | Under $80 USD | $4.99 USD | 2-7 business days |
Package Tracking and Insurance: Rest assured, all our packages are tracked and insured for your peace of mind.
Customs Duty:
United States: No Customs Duty for orders under $800 in the US.
For more information, please review our Shipping Policy.
Pre-sewn Hijabs
Slip it on and get going
Throw out your pins! Enjoy a hassle-free hijab experience thanks to the pre-sewn feature. Instant! It's in the name.
"I call them my errand hijabs" - Fareeha's Take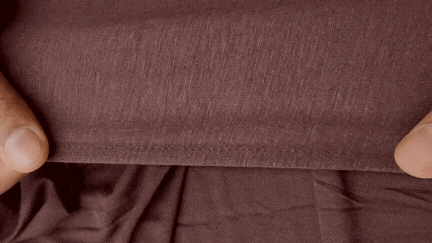 Easy Breezy Headscarves
Made from soft and durable Jersey fabric, these hijabs are easy to slip-on and will stay in place all day with no effort.
Slip Scale: 5 out of 5 | Under Cap Not Required
<! Slip Scale section on product page>
<!**START - Slip Scale - Product Pages**> <!**END - Slip Scale - Product Pages**>
Product Guide: Instant Jersey Hijabs
The Jersey Hijabs are made from Cotton Jersey Fabric. This fabric is made of 95% Cotton and 5% Spandex.

The Cotton Jersey fabric is super soft and smooth making it ideal for everyday and active wear. The Jersey Hijabs are perfect for winter and fall seasons as they provide a layer of insulation protecting your ears, face and neck from the cold temperatures. Their stretchy quality allows them to be worn without under caps and pins.
They are all made from the same exact cotton jersey fabric.
The difference is the size and style.
The Instant Jersey Hijabs are pre-sewn at the chin, so you slide them on and wrap it around your head and neck. The other two styles are rectanglular like traditional hijabs, with the difference being their size.
The Premium Jersey Hijabs are 170 x 50 cm, while the Premium Maxi Jersey Hijabs are slightly larger at 180 x 70 cm.
Yes, Instant Jersey Hijabs are the perfect option for new hijabis or beginners. Infact, we recommend that new hijabis should start their hijab journey with Jersey before moving on to other fabrics.
Here are a few reasons why:
Instant Jersey Hijabs are pr-sewn at the chin, which means that no pins are required to put the on. You simply need to slide it on and wrap it around. This is perfect for new hijabis, who learning to wear headscarves.
Jersey hijabs are very soft and breathable, making them comfortable to wear for extended periods of time. This is important for new hijabis who may be adjusting to wearing a hijab on a daily basis.
Jersey hijabs are also very easy to style and don't slip at all. This allows new hijabis to experiment with different styles and find what works best for them.
Jersey Hijabs are super versitile and can be worn with almost any outfit. They are perfect for both everyday and formal wear.
Yes, Jersey Hijabs are an excellent choice for workouts!
Their stretchy, high grip fabric ensures that they stay securely in place during even the most intense physical activity.
Their moisture-wicking properties help to keep you feeling cool and comfortable.
The softness of the fabric prevents irritation, so you can focus on your workout without any distractions.
Overall, Jersey Hijabs are the perfect combination of function and comfort, making them a go-to choice for active wear hijabs.
Short answer, not nessicarily. The wonderful thing about our jersey hijabs is that they are very stretchy and grippy, allowing them to be worn without under caps and pins.
This exact reason also makes them perfect for new hijabis.
We'll be happy to assist you!
Simply shoot us an email at info@mominamodestwear.com or chat with us in the bottom right corner of the page.
How to wear an Instant Jersey Hijab
Instant Jersey Hijabs are easy to wear due to their slip-on design and no pins or magnets are required. Made from soft, breathable, moisture-wicking and insulating fabric, they are perfect for new hijabis and beginners
Step 1
Slip on your Instant Jersey Hijab
Step 2
Bring the long side over your left shoulder
Step 3
Wrap it around your head
Step 4
Tuck it below your chin or let it hang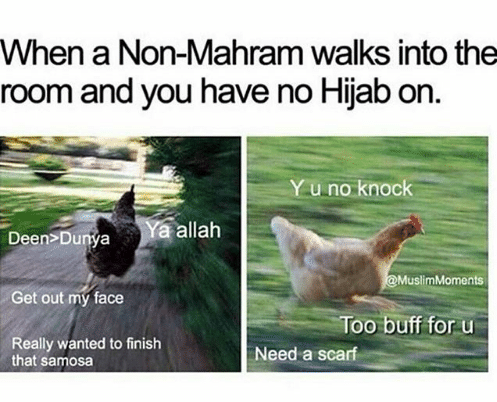 Don't get caught slacking. Always have an instant hijab handy.
Real Reviews from Real Users