Discover the ultimate hijab-wearing experience with our Luxury Maxi Modal Hijabs. Made from premium, long-lasting modal fabric, these hijabs offer a unique combination of comfort, style, and durability. Say goodbye to rough and scratchy hijabs and hello to silky-soft, breathable hijabs that are perfect for all-day wear.
With their radiant sheen and natural look, our hijabs are the epitome of elegance. Ideal for both everyday wear and special occasions, they provide a sophisticated, regal touch that sets you apart from the rest. The Luxury Maxi Modal Hijab - Dove, is a calming warm light gray hue, is versatile, and perfect for any season. Featured in a maxi size, these hijabs are perfect for coverage and comfort. 
Pair with our  Hijab Under Caps & Hijab Magnets to keep your hijab and hair in place all day!
Hijab Dimensions: Maxi Size
Length: 200 cm or 78.7 inches
Width: 100 cm or 39.3 inches
Fabric: 100% Modal Fabric
Care: To keep your hijab looking its best, we recommend that you:
Hand wash or machine wash on a delicate cycle in cold water
Use a mild detergent and avoid bleach or fabric softener
Hang or lay flat to dry, or tumble dry on a low heat setting
Iron on a low heat setting, or steam to remove any wrinkles
To remove any stains or spots, gently blot the affected area with a damp cloth and mild detergent, then rinse and hang to dry.
| Shipping Region | Minimum Order Amount | Shipping Cost | Transit Time |
| --- | --- | --- | --- |
| USA-wide | $80 USD | Free | 2-7 business days |
| USA-wide | Under $80 USD | $4.99 USD | 2-7 business days |
Package Tracking and Insurance: Rest assured, all our packages are tracked and insured for your peace of mind.
Customs Duty:
United States: No Customs Duty for orders under $800 in the US.
For more information, please review our Shipping Policy.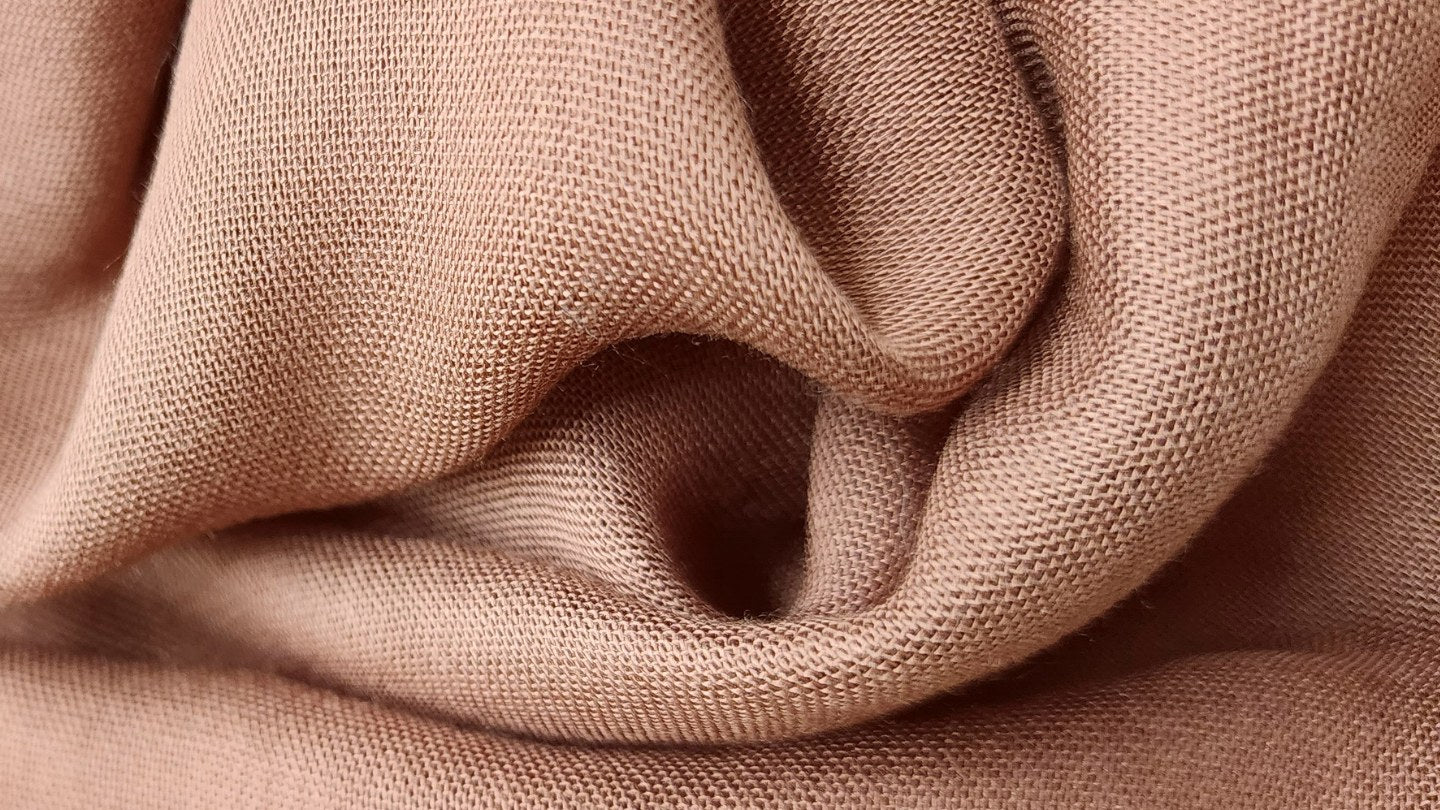 Lightweight & Soft Modal Hijabs
Sustainable - Breathable - Durable
Made from high-quality and sustainable Modal fabric, these hijabs are good for the earth and will retain their shape and color for years to come.
The perfect blend of sustainability, comfort, and durability. Breathable and sweat-resistant, these headscarves are essential for warm days.
Product Guide: Luxury Maxi Modal Hijabs
These Modal Hijabs are made from a sustainable, soft, lightweight, and breathable fabric called Modal. The Modal fabric is known for its soft, smooth, and silky feel, as well as its ability to drape and wrap well.
Modal hijabs are lightweight and breathable, which makes them comfortable to wear in warmer weather conditions. These hijabs also have a beautiful sheen and a buttery-soft feel, which gives them a sophisticated and elegant look.
Overall, modal hijabs are comfortable, stylish, and luxurious, and they are a popular choice among hijabis for their comfort and versatility.
Here are the qualities of Modal hijabs that qualify them as sustainable:
Less water consumption: The Modal fabric is made from the Beech tree, which requires 10-20x less water than cotton crops.
Biodegradable: The Modal fabric is fully biodegradable
Eco-friendly: The Modal fabric is made from regenerative plants and produced with fewer chemicals, making it a more sustainable choice.
Durability: The weave and fiber length of the modal fabric makes it a solid and durable material.
Resistance to pilling: Modal has a smooth finish that resists pilling, which means it lasts longer.
In our eyes, any hijabs that don't end up in a landfill within a couple of months and stay longer in your use are sustainable.
The only difference is the size.

The Luxury Maxi Modal Hijabs are 200 x 10cm while the Luxury Modal hijabs are 180 x 70 cm - the size of a regular hijab.
We'll be happy to assist you!
Simply shoot us an email at info@mominamodestwear.com or chat with us in the bottom right corner of the page.
More Hijabs from the Modal Collection