Length - Shoulder to Feet
50 in / 127 cm
52 in / 133 cm
54 in / 138 cm
56 in / 143 cm
58 in / 148 cm
The model's height is 5ft 5 inches and she is wearing a size '58' with 3 inch heels. All other measurements are one size fits all.
Our Prayer Dress - Khadijah is a soft and comfortable one-piece jilbab created from a smooth and beautiful luxurious fabric. The jilbab is fully integrated with head coverage that can be adjusted with the attached drawstrings. Tie at the front or back as you desire. It also features the option to achieve face coverage by tying as a niqab.
The loose fit and butterfly cut allows this jilbab to flow gracefully. Achieve ultimate comfort and coverage when offering your daily prayers, or wear an abaya when you are out and about. Featured in a true black shade, our Prayer Dress - Khadijah, is an essential jilbab that you need this Ramadan while going to a mosque or offering your daily prayers. 
Fabric: Nida Fabric - 100% Polyester
Care: To keep your prayer dress looking its best, we recommend that you:
Hand wash or machine wash on a delicate cycle in cold water
Use a mild detergent and avoid bleach or fabric softener
Hang or lay flat to dry, or tumble dry on a low heat setting
Iron on a low heat setting, or steam to remove any wrinkles
To remove any stains or spots, gently blot the affected area with a damp cloth and mild detergent, then rinse and hang to dry.
| Shipping Region | Minimum Order Amount | Shipping Cost | Transit Time |
| --- | --- | --- | --- |
| USA-wide | $80 USD | Free | 2-7 business days |
| USA-wide | Under $80 USD | $4.99 USD | 2-7 business days |
Package Tracking and Insurance: Rest assured, all our packages are tracked and insured for your peace of mind.
Customs Duty:
United States: No Customs Duty for orders under $800 in the US.
For more information, please review our Shipping Policy.
Modest Coverage for the Modest Woman
Embrace the modest woman in you. Feel your best in these prayer dresses that will keep you comfortably covered all day.
"You know that feeling of lightness during prayer? These just enhance that." - Fareeha's Take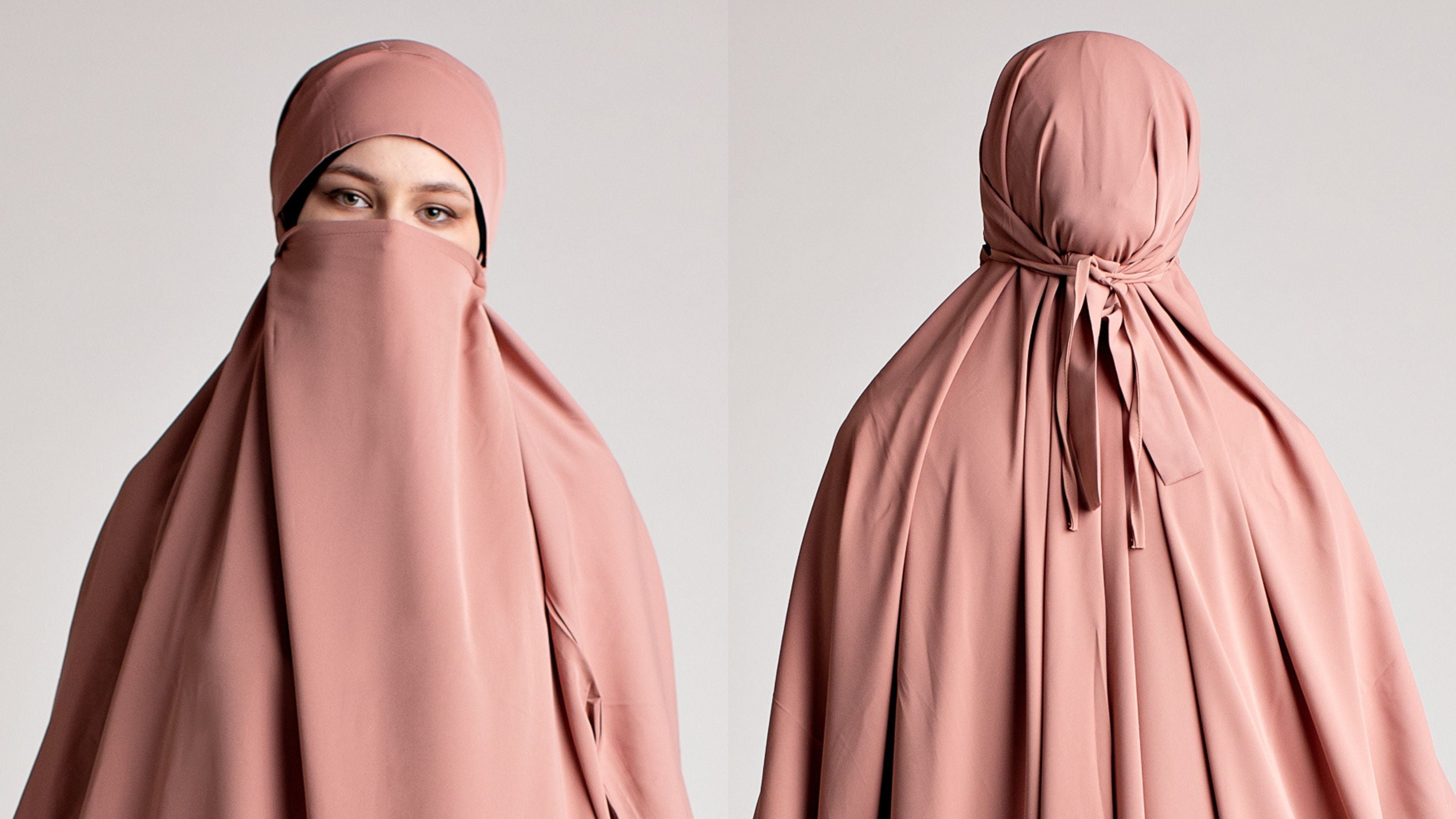 Complete Comfort & Convenience
Whudu-friendly elastic cuff sleeves that can be easily pulled up to the elbow. Adjustable head and chin bands allow for optional face covering.
Product Guide: Prayer Dresses
Our Prayer Dresses are made from a soft, lightweight, and fully opaque fabric called Nida.
This fabric is made of 100% polyester, which is a synthetic fiber known for its strength, durability, and resistance to wrinkles and fading.
The Nida fabric is very smooth and has a soft, flowy quality.
No, you don't need to be concerned about our prayer dresses being see through.
All our abayas and dresses are designed to be fully opaque and offer complete coverage. We either use high opacity Nida fabric or add full lining on the inside.
Our prayer dresses have elastic cuff sleeves that can be easily pulled up to the elbow. This allows you easily compelete your whudu without struggling with your sleeves.
Yes, these jilbabs are very loose and will easily accommodate baby-bumps.
P.S. If you are expecting, may Allah bless you with a beautiful and pious little one. :)
We'll be happy to assist you!
Simply shoot us an email at info@mominamodestwear.com or chat with us in the bottom right corner of the page.
Real Reviews from Real Users