Classic Khimar - Zainab
An elegant cream coloured khimar that is a must-have for every modest wardrobe.
Slip-on Design
Adjustable tie-back headband
Full size - Model height: 5ft 5in
In stock
| Side | Length |
| --- | --- |
| Front | 40 inches / 101.6 cm |
| Back | 55 inches / 139.7 cm |
For reference: The model in the product image is 5 feet 5 inches tall.
Fabric: Nida Fabric - 100% Polyester
Care: To keep your khimar looking its best, we recommend that you:
Hand wash or machine wash on a delicate cycle in cold water
Use a mild detergent and avoid bleach or fabric softener
Hang or lay flat to dry, or tumble dry on a low heat setting
Iron on a low heat setting, or steam to remove any wrinkles
To remove any stains or spots, gently blot the affected area with a damp cloth and mild detergent, then rinse and hang to dry.
| Shipping Region | Minimum Order Amount | Shipping Cost | Transit Time |
| --- | --- | --- | --- |
| Canada-wide | $80 CAD | Free | 1-5 business days |
| Canada-wide | Under $80 CAD | $4.99 CAD | 1-5 business days |
| USA-wide | $80 USD | Free | 2-7 business days |
| USA-wide | Under $80 USD | $4.99 USD | 2-7 business days |
| Rest of the world | $250 USD | Free | Displayed at checkout |
| Rest of the world | Under $250 USD | Calculated at checkout | Displayed at checkout |
Package Tracking and Insurance: Rest assured, all our packages are tracked and insured for your peace of mind.
Customs Duty:
Canada: No Customs Duty for orders within Canada.
United States: No Customs Duty for orders under $800 in the US.
Rest of the world: Customs duties vary by country. Please note that customers are responsible for all customs and duties.
For more information, please review our Shipping Policy.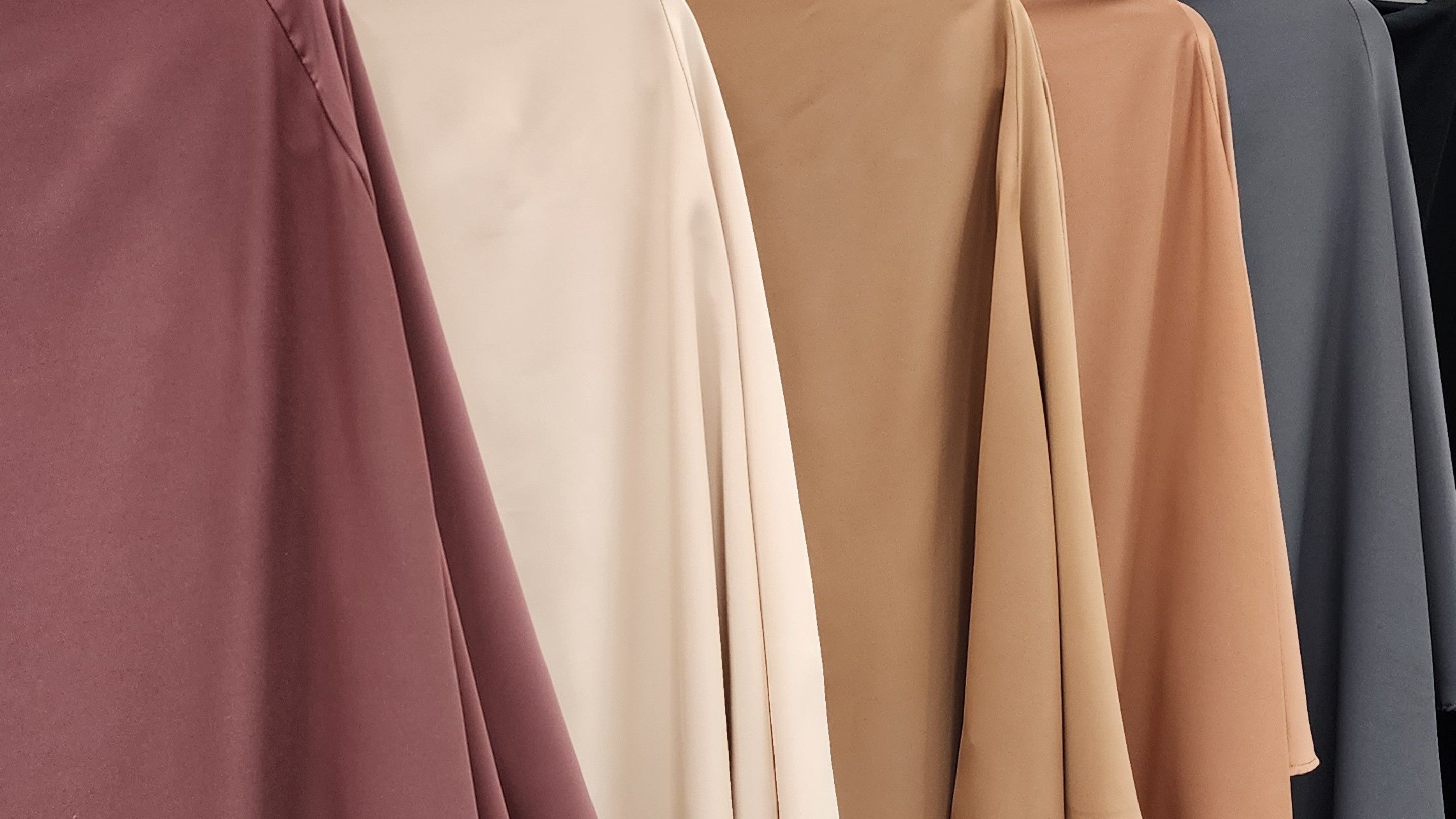 Graceful Neutrals
Crafted from high quality Nida fabric and featured in a range of beautiful hues, these khimars will be your new favourite obsession.
Our Khimars are made from a soft, lightweight, and fully opaque fabric called Nida.
This fabric is made of 100% polyester, which is a synthetic fiber known for its strength, durability, and resistance to wrinkles and fading.
The Nida fabric is very smooth and has a soft, flowy quality.
Our Classic Khimars are designed to be one size fits all.
They are slip-on and have a tie-back headband that allows the khimars to be adjusted according to personal preference.
For reference, the model's height in the product pictures is 5ft 5 inches.
Our khimars are an easy slip-on design with an adjustable tie-back headband.
Here is how you put it on in 3 easy steps:
Slip your head through the opening in the top of the khimar, so that the headband is now resting on your forehead.
Adjust the front band of the khimar so that it sits comfortably under your chin.
Tie the headband in a knot or bow at the back of your head, either under your hair bun or at the base of your neck.
Yes, Khimars are a great option for Hajj and Umrah.
They are made from lightweright and breathable Nida fabric, which makes them perfect for staying cool in the hot climate.
They are fully opaque and provide excellent coverage which is vital for when you go for Hajj or Umrah.
Their full coverage design makes them an excellent choice for prayers.
These reasons make them a top choice for muslim women travelling for Hajj and Umrah or visiting the Middle East in general.
We'll be happy to assist you!
Simply shoot us an email at info@mominamodestwear.com or chat with us in the bottom right corner of the page.