Our Cotton Crinkle Hijabs are fabricated from a soft woven viscose and cotton blend, perfect for your everyday hijabs that can be endlessly styled. Featured in a mid-tone taupe hue, our Cotton Crinkle Hijab in Taupe is sure to become your favorite go-to!
These soft and lightweight cotton hijabs stay in place with minimal effort thanks to their flattering crinkle texture, non-slip fabric, and airy flow. Don't have time for ironing or pinning up your hijab? This hijab collection is made for our ladies on the go! Achieve easy and effortless styling with your Cotton Crinkle Hijabs!
Hijab Dimensions
Length: 180 cm or 71 inches
Width: 90 cm or 35 inches
Fabric: Cotton Viscose
Care: To keep your hijab looking its best, we recommend that you:
Hand wash or machine wash on a delicate cycle in cold water
Use a mild detergent and avoid bleach or fabric softener
Hang or lay flat to dry, or tumble dry on a low heat setting
Iron on a low heat setting, or steam to remove any wrinkles
To remove any stains or spots, gently blot the affected area with a damp cloth and mild detergent, then rinse and hang to dry.
| Shipping Region | Minimum Order Amount | Shipping Cost | Transit Time |
| --- | --- | --- | --- |
| Canada-wide | $80 CAD | Free | 1-5 business days |
| Canada-wide | Under $80 CAD | $4.99 CAD | 1-5 business days |
| USA-wide | $80 USD | Free | 2-7 business days |
| USA-wide | Under $80 USD | $4.99 USD | 2-7 business days |
| Rest of the world | $250 USD | Free | Displayed at checkout |
| Rest of the world | Under $250 USD | Calculated at checkout | Displayed at checkout |
Package Tracking and Insurance: Rest assured, all our packages are tracked and insured for your peace of mind.
Customs Duty:
Canada: No Customs Duty for orders within Canada.
United States: No Customs Duty for orders under $800 in the US.
Rest of the world: Customs duties vary by country. Please note that customers are responsible for all customs and duties.
For more information, please review our Shipping Policy.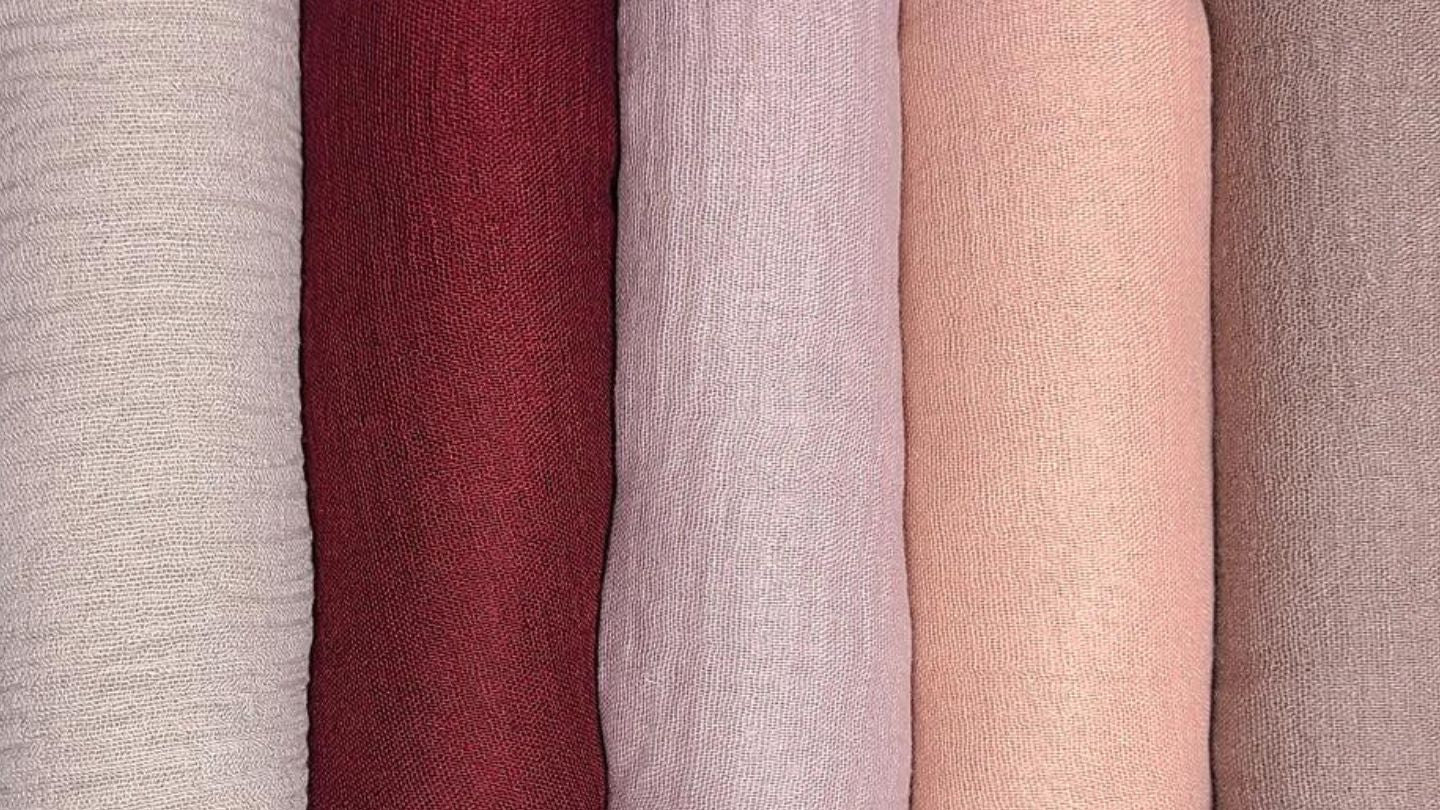 AVAILABLE IN 40 SHADES
There is a reason very single hijabi has worn one of these. They are a hassle-free bargain that tends to last you few seasons.
Cotton Crinkle Hijabs are the perfect option for new hijabis. Here are a few reasons why:
Inexpensive: You get to experiment a lot without feeling bad about damaging them
Hassle-free: They are very lightweight and soft. This is perfect for beginners as it won't bother you throughout your day.
Longevity: They surprisingly last a decent amount of time.
Low maintenance: Their wrinkle texture means you never have to iron them.
To wear a cotton crinkle hijab, you can try the following method:
Drape the hijab over your head, with one end longer than the other and simply wrap it around. Secure it in place with pins or hijab magnets, and consider wearing an undercap to help keep the hijab in place.
Cotton crinkle hijabs are versatile and can be worn in many different ways, so don't be afraid to try out different styles and techniques to find what works best for you.
Wearing an undercap is not necessary with cotton crinkle hijabs, but it can help to keep the hijab in place and provide an additional layer of coverage.
Our Cotton Crinkle hijabs are 180 x 90 cm in size, or approximately 70.9 x 35 inches
The size of the hijabs is meant to strike a balance between coverage and comfort, making them suitable for a wide range of activities and occasions.
We'll be happy to assist you!
Simply shoot us an email at info@mominamodestwear.com or chat with us in the bottom right corner of the page.