Our Medina Silk Hijabs have an exquisitely smooth, silky, and drapey fabric. These hijabs are perfect for wearing with just a hijab magnet pin all day because they are made of a mid-weight fabric with a matte texture. Our Medina Silk Hijabs are the perfect length, thickness, and weight you desire in a hijab, making them completely practical for everyday wear or formal occasions. 
These luxurious hijabs have a reputation for grace and elegance. While remaining light, airy, and breathable this unique fabric offers full opacity even in the lightest shades. Featured in a regal dark chocolate brown hue, our Medina Silk Hijab - Americano looks great on any skin tone.
Hijab Dimensions
Length: 180 cm or 71 inches
Width: 70 cm or 28 inches
Fabric: 100% Polyester - Medina Silk
Care: To keep your hijab looking its best, we recommend that you:
Hand wash or machine wash on a delicate cycle in cold water
Use a mild detergent and avoid bleach or fabric softener
Hang or lay flat to dry, or tumble dry on a low heat setting
Iron on a low heat setting, or steam to remove any wrinkles
To remove any stains or spots, gently blot the affected area with a damp cloth and mild detergent, then rinse and hang to dry.
| Shipping Region | Minimum Order Amount | Shipping Cost | Transit Time |
| --- | --- | --- | --- |
| Canada-wide | $80 CAD | Free | 1-5 business days |
| Canada-wide | Under $80 CAD | $4.99 CAD | 1-5 business days |
| USA-wide | $80 USD | Free | 2-7 business days |
| USA-wide | Under $80 USD | $4.99 USD | 2-7 business days |
| Rest of the world | $250 USD | Free | Displayed at checkout |
| Rest of the world | Under $250 USD | Calculated at checkout | Displayed at checkout |
Package Tracking and Insurance: Rest assured, all our packages are tracked and insured for your peace of mind.
Customs Duty:
Canada: No Customs Duty for orders within Canada.
United States: No Customs Duty for orders under $800 in the US.
Rest of the world: Customs duties vary by country. Please note that customers are responsible for all customs and duties.
For more information, please review our Shipping Policy.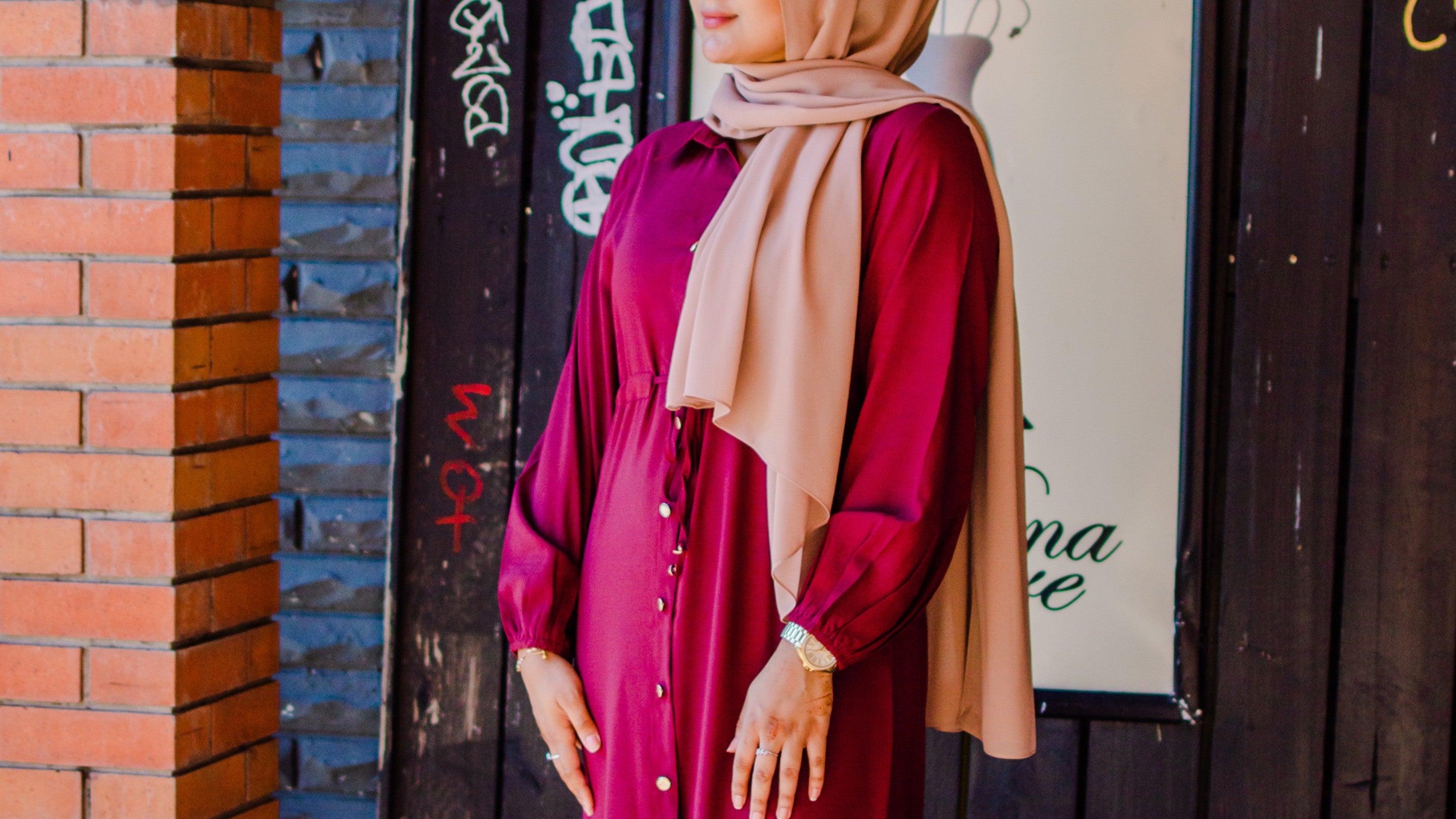 LUXURIOUS OCCASION WEAR HIJABS
Silky Smooth Delight
Featuring a medium thick fabric that is opaque, durable and smooth to the touch, these wonderful hijabs can be dressed up or down.
Product Guide: Medina Silk Hijabs
Medina Silk Hijabs are made from 100% polyester - medina silk fabric, which is soft, smooth, and highly opaque. The fabric has a subtle matte shine and is non-slip so it will stay in place all day.
The smooth, silky texture of the medina silk fabric makes it comfortable to wear and provides a luxurious feel against the skin.
Yes, our Medina Silk Hijabs are a great choice for occasion wear.
The smooth, silky texture of the fabric adds a touch of luxury to any outfit and is sure to make you feel confident and elegant on any occasion.
The lightweight fabric makes these hijabs comfortable to wear for long periods of time. Overall, the Medina Silk Hijabs are a beautiful and comfortable choice for any occasion.
Our Medina Silk Hijabs are 180 x 70 cm in size, or approximately 70.9 x 27.6 inches.
They are designed to provide full coverage, while also being small enough to not feel overwhelming or cumbersome.
The size of the hijabs is meant to strike a balance between coverage and comfort, making them suitable for a wide range of activities and occasions.
Proper care is important to maintain the appearance and quality of your Medina Silk Hijabs. Here are some tips to follow:
It is generally recommended to hand wash it in cold water with a mild detergent. This will help to preserve the fabric's texture and prevent fading or shrinkage. Alternatively, you can dry clean your hijab for added convenience.
Avoid wringing or twisting your hijab when washing it, as this can cause the fabric to become misshapen or creased. Instead, gently squeeze the water out or press it between towels to remove excess moisture.
When drying your hijab, it is generally best to hang it up to dry rather than placing it in the dryer. This will help to prevent shrinkage and preserve the fabric's shape. If you do need to machine dry your hijab, use a low heat setting and remove it from the dryer as soon as it is dry to avoid over-drying and excessive heat exposure.
To store your hijab, it is best to fold it carefully and place it in a drawer or closet. Avoid crushing or folding it in a way that may cause creases or damage to the fabric. If you need to pack your hijab for travel, you can roll them up to save space and keep them from getting damaged.
We'll be happy to assist you!
Simply shoot us an email at info@mominamodestwear.com or chat with us in the bottom right corner of the page.