Our Ribbed Hijab Under scarves is designed with the finest sourced cotton and jersey blend to create an under a scarf that is breathable, flexible, and comfortable, making it the perfect hijab-friendly essential! Pairing together the elastic stretch of our Premium Jersey fabric with a smooth ribbed texture, our Ribbed Hijab Under scarves will secure your hijab in place all day while preventing your hair from slippage, breakage, and scalp irritation.
Featured in a true black hue, our Ribbed Hijab Under scarf - Graphite, is a vital addition to your wardrobe that can be worn under any of your hijabs. The open-ended tube silhouette and subtle texture and stretch make these a perfect solution to give you maximum comfort under your hijab.
Pair them with our Hijabs & Hijab Scrunchies to complete the look!
Materials & Care:
Approx. 25 cm x 32 cm

Stretchy Cotton & Jersey blend

Tube silhouette

Care: hand washing & hand dry is recommended

Please note colours may vary slightly due to monitor colour resolution
Hijab Dimensions
Length: 180 cm or 71 inches
Width: 70 cm or 28 inches
Fabric: Cotton Jersey - 95% Cotton 5% Spandex
Care: To keep your hijab looking its best, we recommend that you:
Hand wash or machine wash on a delicate cycle in cold water
Use a mild detergent and avoid bleach or fabric softener
Hang or lay flat to dry, or tumble dry on a low heat setting
Iron on a low heat setting, or steam to remove any wrinkles
To remove any stains or spots, gently blot the affected area with a damp cloth and mild detergent, then rinse and hang to dry.
| Shipping Region | Minimum Order Amount | Shipping Cost | Transit Time |
| --- | --- | --- | --- |
| Canada-wide | $80 CAD | Free | 1-5 business days |
| Canada-wide | Under $80 CAD | $4.99 CAD | 1-5 business days |
| USA-wide | $80 USD | Free | 2-7 business days |
| USA-wide | Under $80 USD | $4.99 USD | 2-7 business days |
| Rest of the world | $250 USD | Free | Displayed at checkout |
| Rest of the world | Under $250 USD | Calculated at checkout | Displayed at checkout |
Package Tracking and Insurance: Rest assured, all our packages are tracked and insured for your peace of mind.
Customs Duty:
Canada: No Customs Duty for orders within Canada.
United States: No Customs Duty for orders under $800 in the US.
Rest of the world: Customs duties vary by country. Please note that customers are responsible for all customs and duties.
For more information, please review our Shipping Policy.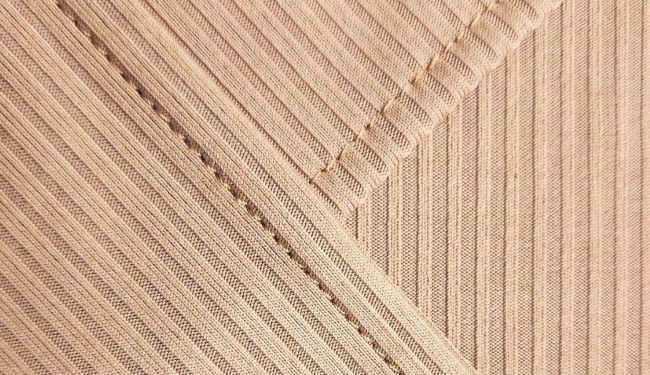 Wrinkle-free Durable Hijabs
Sweater Hijabs that Barely need to be Ironed
Ribbed Jersey hijabs are wonderfully non-slip and wrinkle-resistant, making them perfect for school, work or your daily errands.
And, they feel just like your favorite sweater! Your winter wardrobe isn't complete without one of these cozy hijabs.
Product Guide: Ribbed Jersey Hijabs
YES! There is no other fabric or hijab material that will keep you warmer than the Ribbed Jersey Hijabs.
They are incredibly insulating, and their weave pattern gives them excellent flexibility with their 4-way stretch. This, combined with the soft medium-thick fabric, makes them the best hijab for winter.
Bonus point: The ribbed pattern makes them wrinkle-resistant, meaning you rarely have to iron them.
The main difference between ribbed jersey hijabs and regular jersey hijabs is the texture of the fabric.
Both types of hijabs are made from high-quality cotton jersey fabric, which is known for its softness, comfort, and breathability. However, ribbed jersey hijabs are weaved in a way that creates a symmetrical ribbed texture, while regular jersey hijabs have a smooth finish.
In terms of functionality, both types of hijabs are suitable for a wide range of activities and can be dressed up or down to suit your style.
Our Ribbed Jersey hijabs are 180 x 70 cm in size, or approximately 70.9 x 27.6 inches.
Short answer, not nessicarily. The wonderful thing about our jersey hijabs is that they are very stretchy and grippy, allowing them to be worn without under caps and pins.
This exact reason also makes them perfect for new hijabis.
However, if you prefer to wear an under cap under your hijab, you would love these Ribbed Jersey Under scarves available in matching colours.
We'll be happy to assist you!
Simply shoot us an email at info@mominamodestwear.com or chat with us in the bottom right corner of the page.